1. First check the power connections and polarity.
2. Fill the flux hoper with granular flux and check continuity of flux flow by opening the stopper.
3. Fit the electrode wire through the drive and guide roller.
4 Turn on the power and check travel and wire feed as well as mark the welding line.
5 Clamp the two pieces to be welded along the weld line.
6 Now set operating parameters on the control panel.
7 Release the flux stopper to cover the plates and electrode with fluxes.
8 Engage the auto travel lever and start the process.
9 Check for the sound of welding as a signal that welding is going on.
10 After completion of travel turn off the process from the controller and close the flux stopper.
11 Collect the unused flux and then remove the solidified slag by chipping.
12 Unclamp the job after cooling and extract test pieces by cutting it for mechanical and metallurgical testing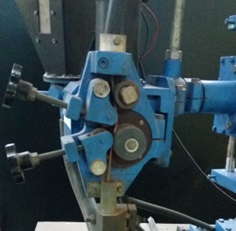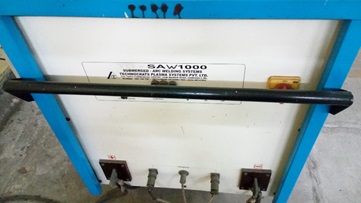 Precautions
1.Ensure that the joint line exactly matches with the electrode travel path.
2.Appropriate clamping must be there to prevent distortion during welding.
3.Granular flux should be free of moisture.
4.Bare electrode must be free from rust and irregularities.